State Representative Adam Niemerg (R-Dieterich) announced that his next Satellite Office Hours in May will be at the following:
Wednesday, May 5
8:00 – 9:30 AM White Co. Farm Bureau (304 E. Robinson, Carmi)
10:30 AM – 12:30 PM Hope Center (23 W. Cherry Street, Albion)
2:00 – 3:30 PM                 Mt. Carmel City Hall (631 N. Market Street, Mt. Carmel)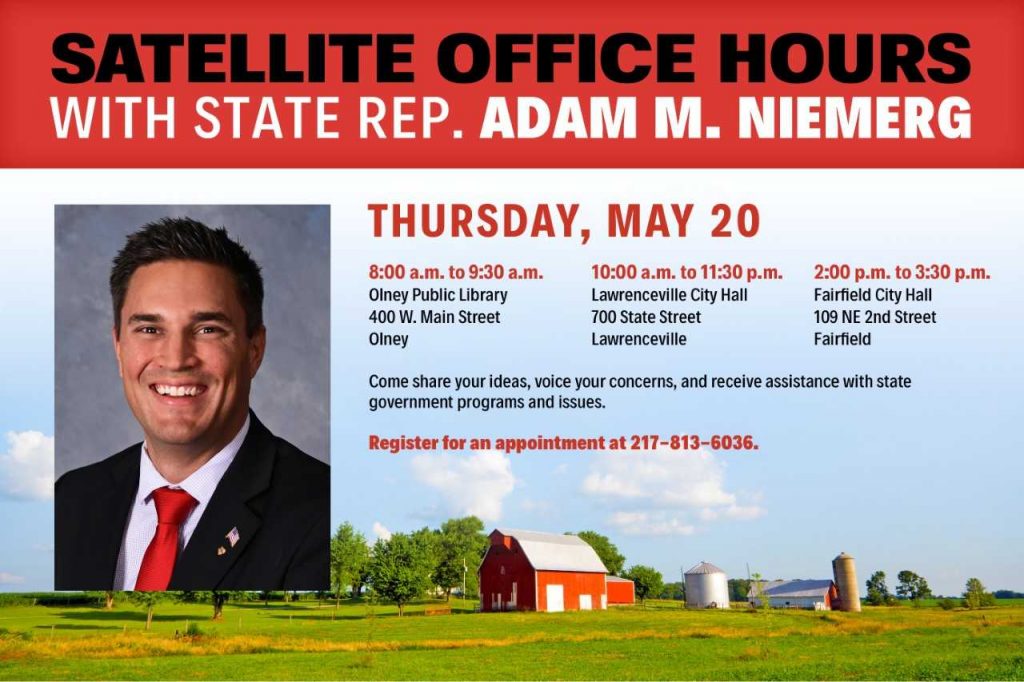 Thursday, May 20:
8:00 to 9:30 AM Richland County:   Olney Public Library (400 W. Main Street, Olney)
10:00 – 11:30 AM Lawrence County: Lawrenceville City Hall (700 State Street, Lawrenceville)
2:00 – 3:30 PM Wayne County:      Fairfield City Hall (109 NE 2nd St. Fairfield)
Residents and business owners in the district are encouraged to share their ideas, voice their concerns, and receive assistance with state government programs and issues. You may register for an appointment at 217-813-6036.
For those who would like to receive legislative updates, please register at the on-line office at RepNiemerg.com.