Public Entities & Private Citizens Worked Together on Behalf of the Community to Ensure Public Safety
On Friday, April 30, State Representative Adam Niemerg (R-Dieterich), was proud to present House of Representatives certificates and say Thank You to twenty-three of the forty-one people who assisted with the safety procedures and cleanup of the train derailment on Tuesday, February 16, 2021. The derailment occurred at approximately 9:45 p.m. along Illinois Highway 33 between the communities of Dieterich in Effingham County and Wheeler in Jasper County.
"I am thankful there were no injuries nor deaths in this incident," stated Rep. Adam Niemerg. "When I woke up that Wednesday morning after the derailment and heard about it on the news, you guys already had everything under control."
According to updates provided to Rep. Niemerg's district office in Teutopolis, the Illinois Department of Transportation (IDOT) personnel from Newton and Effingham worked with the Illinois State Police (ISP) to secure the site and set up the detours around the derailment to prevent any other accidents. Jasper County EMS personnel were on hand in case of the need for transport to a medical facility for anyone. Local farmers and small businesses provided skid steers, track hoes, dump trucks, semi-trucks, and skid loaders for scooping up grain and for hauling rock.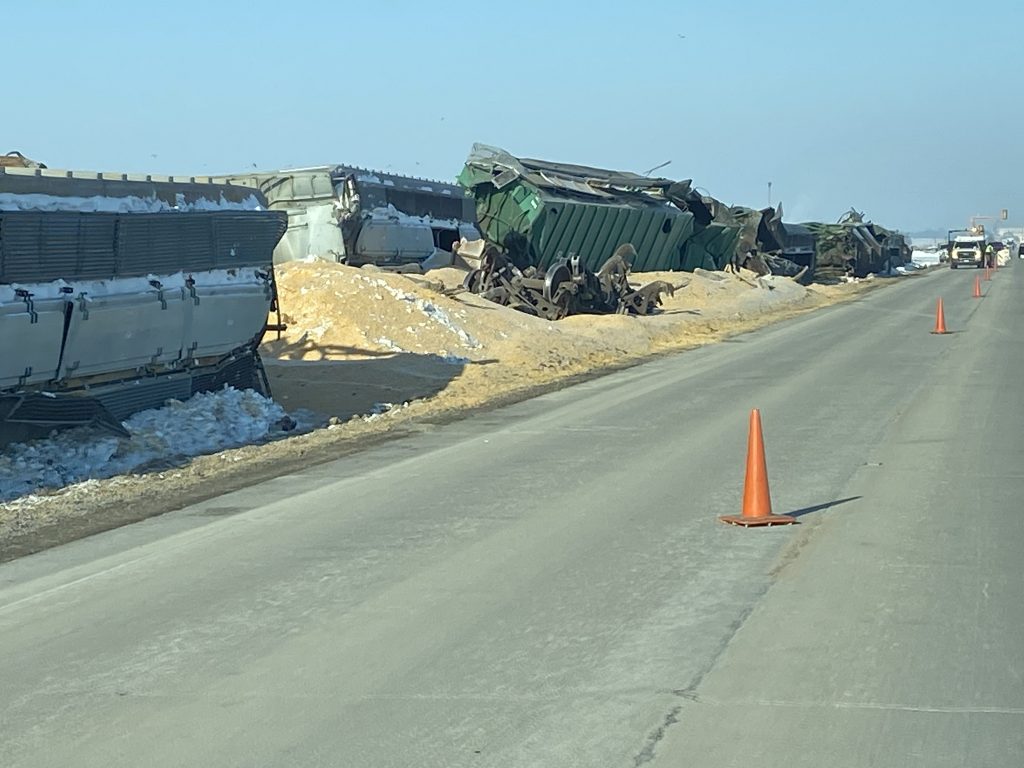 The individuals recognized for their team effort to maintain safety for the area include:
Jasper County Sheriff's Office: Deputy Kevin Shelty and Deputy Brian Cox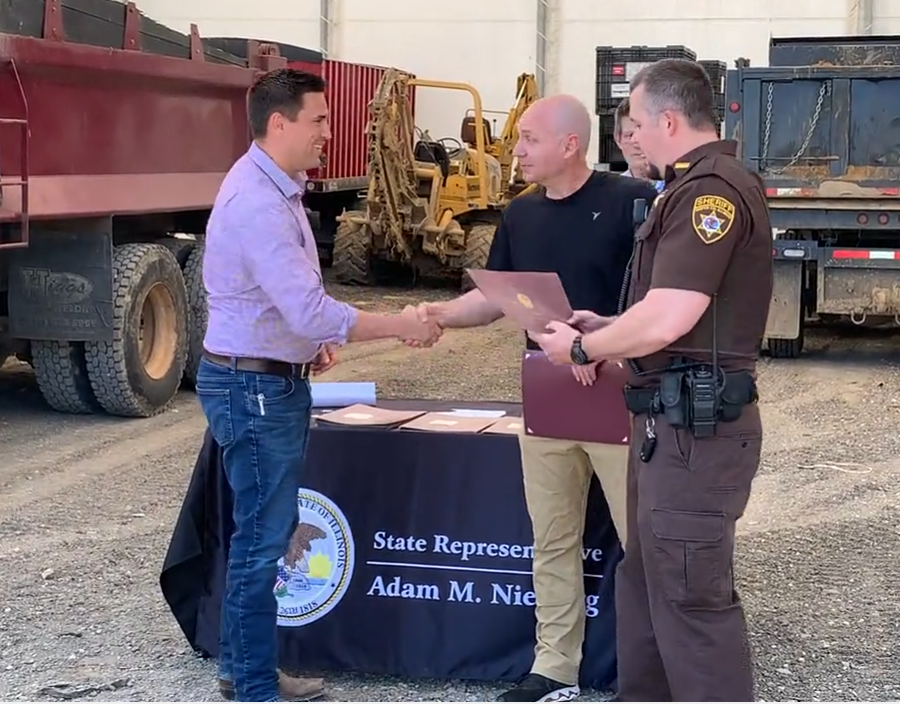 Effingham IDOT District 7: Christopher P. Smith, operations engineer; Gina Kreke, Access Permit Technician; Phillip Boyer, Traffic Operations Supervisor; Dewayne R. Seachrist, Traffic Engineer; Jason Williams, Lead Worker; Shaun Mitchell, Silk Screen Operator; Brian Campbell, Highway Maintainer; Ray Chamberlain, Highway Maintainer; Jared Fritts, Highway Maintainer; Tyler Lewis, Highway Maintainer; Marty Oakley, Highway Maintainer; Jason Turner, Highway Maintainer; Kelly Veach, Highway Maintainer; Brandon Waddell, Highway Maintainer; Brian Wente, Highway Maintainer; Kevin Wernsing, Highway Maintainer
Newton IDOT District 7: Tim Walls, Operations Supervisor; Corey Chapman, Lead worker; Joe Worman, Maintenance Worker; Paul Miller, Maintenance Worker; and Jimmy Shamhart, Maintenance Worker; Scott Cameron, Highway Maintenance
Jasper County EMS Personnel: Daniel Alzate and Anthony Brashers
Travis Michl Grain & Livestock: Travis Michl, Travis Miller, William Michl, Dave Michl, Ty Wicke, Paul Frohning, Curtis Frohning, and Frank Bergbower;
Smithenry Trenching & Backhoe: Terry Smithenry, Trent Smithenry, Josh Bergbower, and Nate Reisner
Drake and Son Trucking: Tim Drake, Tim Drake, Jr., and Laverne Otto
3 Sisters Logistics: Cody Enloe and William Manuel
"Between the State Police, the IDOT yards in Newton and Effingham, the EMS personnel and all of the local farmers and businesses who helped to clean up the grain and debris, the trains were running again twenty-four hours later," added Rep. Niemerg. "These certificates are just a small token of our esteem for setting a good example of how communities come together with public and private resources to ensure the public's safety. Thank you, everyone!"