State Rep. Adam Niemerg would like you to be aware of an opportunity to work for the Illinois Department of Natural Resources (IDNR) as a 'Conservation Police Officer.' The position offers competitive pay and benefits, including affordable, employer-sponsored health care, dental, and vision. Employer-furnished equipment, take-home patrol vehicle, flexible scheduling, and more. Learn about the history of this position HERE.
The job posting and application may be found at: https://illinois.jobs2web.com/job/Springfield-CONSERVATION-POLICE-OFFICER-TRAINEE-0934500-IL-62702/737132600/
Scroll all the way to the bottom of the screen.  The CMS-100 application is located under Application Instructions, Non-State Employees.  Click on the CMS-100 link to go to the application.
Mail to:            IDNR OLE, Attn: Curt Stephens, One Natural Resources Way, Springfield, IL 62702
OR submit to:            curt.stephens@illinois.gov
Applications must be signed and post marked/digitally submitted by May 31, 2021. If submitting application via email, please scan and submit all pages as one document.
Eligibility Criteria:
Must be at least 21 years of age upon date of hire
4-year Bachelor's Degree (any major)
OR
Associate's Degree AND three years of Law Enforcement experience (single agency)
OR
Military service (Active, Reserve, or National Guard), currently serving or honorably discharged, with one or more of the following medals:  Afghanistan Campaign Medal, Iraq Campaign Medal, Global War on Terrorism Expeditionary Medal, Southwest Asia Service Medal, Kosovo Campaign Medal, Korean Defense Service Medal
The hiring process will consist of:
Application Submission (CMS 100)
Physical Fitness and Swimming Proficiency Tests
In-person Interview
Psychological Examination
Medical Examination
Background Investigation 
Unless previously certified as a Police Officer in Illinois, selected applicants will be required to complete a paid, 14-week police certification at the Illinois State Police Academy.  An additional paid, 14-week Conservation Academy must be completed as a condition of employment.   During these training academies, selected applicants will be provided meals and lodging on-site, Monday-Friday. For further information please visit: https://www2.illinois.gov/dnr/LawEnforcement/Pages/ConservationPoliceOfficerCareerOpportunities.aspx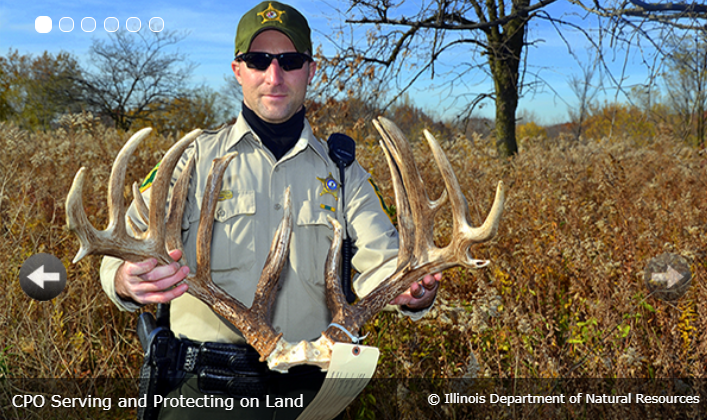 or call or email your respective OLE recruiting officer listed below:
CPO Chase Sanford (Vermilion Co.)- Central Zone Recruiting Officer Email: chase.sanford@illinois.gov  Phone Number: (217) 361-9982
CPO Roberto Macias (Clinton Co.)- Southern Zone Recruiting Officer Email:Roberto.macias@illinois.gov  Phone Number: (618) 713-2705