State Representative Adam Niemerg (R-Dieterich) co-hosted the Energy Town Hall meeting in Effingham Thursday evening with presentations from several stakeholders on this important issue impacting families and businesses. Guest speakers included representatives from Ameren, Vistra Energy, the Illinois Association of Rural Illinois Electric Co-Ops, the Illinois Manufacturers Association, and the Illinois Chamber of Commerce.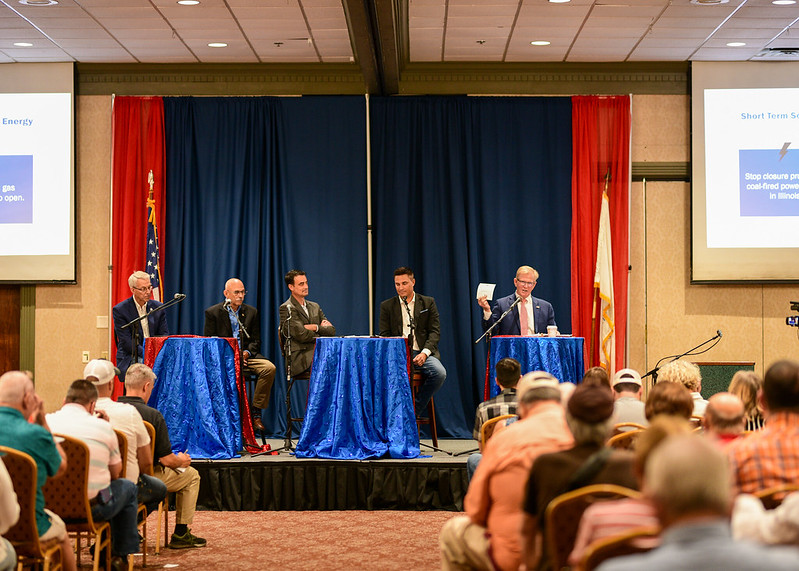 "I have been hearing from constituents for a while now about the high cost of gas and their rising electric bills," commented Rep. Adam Niemerg. "This program was designed to inform constituents about how energy is produced and delivered to consumers to heat and cool homes, schools, hospitals, and businesses as well as provide power to farmers and manufacturers."
The town hall was opened by State Rep. Chris Miller (110th) with a prayer and pledge of allegiance. Each of the members of the General Assembly Freedom Caucus introduced themselves: Rep. Brad Halbrook (102nd), Rep. Dan Caulkins (101st), Rep. Blaine Wilhour (107th), and Rep. Adam Niemerg (109th).
Rep. Dan Caulkins provided an explanation of the Climate and Equitable Jobs Act (CEJA) enacted on September 15, 2021 that imposes mandates on closing natural gas and coal plants that produce energy in Illinois and push for one million electric vehicles in Illinois by 2030.
"I want to thank all of the participants who provided insight on how we get energy to our homes, farms and factories and what is actually driving the high cost of electric bills. The 200 or so attendees asked good questions and went away with a better understanding on how bad public policies have negatively impacted their lives with high electric bills and gas prices at the pump."