State Representative Adam Niemerg (R-Dieterich) was informed today that he is the recipient of the "Champion of Small and Mid-Size Manufacturers Award" for the 102nd General Assembly from the Technology and Manufacturing Association (TMA). Founded nearly one hundred years ago in 1925, the TMA has nearly 1,000 member manufacturers representing over 35,000 employees in Illinois.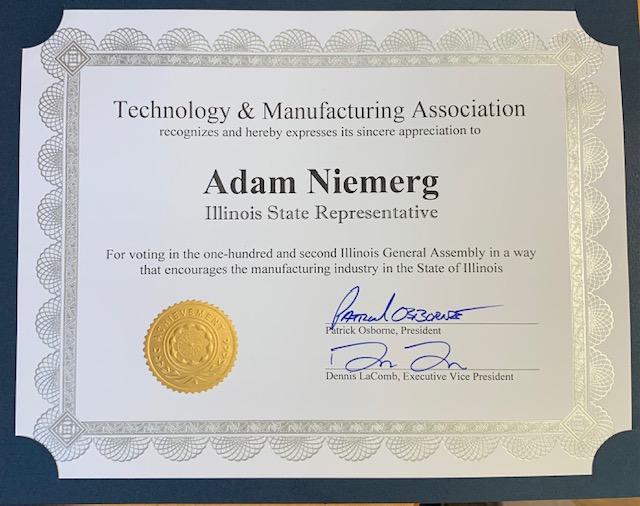 "I am honored to receive this recognition from the Technology and Manufacturing Association that represents a key sector of our economy in Illinois," commented Rep. Adam Niemerg. "Growing up helping my family at our small manufacturing business in rural Effingham County, gives me a unique appreciation for the hard work it takes to start a business and keep it going."
The letter from Executive Vice President, Dennis LaComb, of the TMA points out that they are grateful for the "courage and commitment" by Rep. Niemerg to not only oppose bad policies but work to sponsor or vote for positive policies. The Award states that the TMA appreciates Adam Niemerg, Illinois State Representative, for voting in a way that encourages manufacturing in Illinois.
A recent study showed that the economic impact of manufacturing in Illinois is estimated to be "between $580 billion and $611 billion annually" representing all goods and services directly or indirectly to manufacturing. Direct manufacturing employment in Illinois is 9.5 percent but with the indirect impact employment "jumps to 29.6 percent."
"It's an honor to have the highest score of 90 in the 102nd General Assembly and to receive this award," added Rep. Niemerg. "I encourage my colleagues in the General Assembly to take a closer look at the final bills and join me in voting for better policies to support and grow good jobs for our communities and state."