State Representative Adam Niemerg (R-Dieterich) announced today that he is sponsoring a "Diaper Drive" for the 102nd District to help support the many families who are struggling during these tough economic times. The drive will collect not only baby diapers, but encourages the donation of other items such as cleaning wipes and diaper cream.
"Diapers are not a luxury, they are a basic necessity for babies and toddlers before they are potty trained," said Rep. Adam Niemerg. "Keeping diapers changed and babies clean and dry helps keep children healthy. The high cost of diapers today is a strain on the family budget with an estimated 2,000 to 3,000 diapers needed in a year. We are looking for diapers in all sizes from newborn infants to toddlers, as well as baby wipes, and even ointments to prevent and treat diaper rash."
It is estimated that 5.3 million children under 3 years old live in low-income families who do not receive government support for diapers. Programs like food stamps and WIC, for example, do not cover diapers.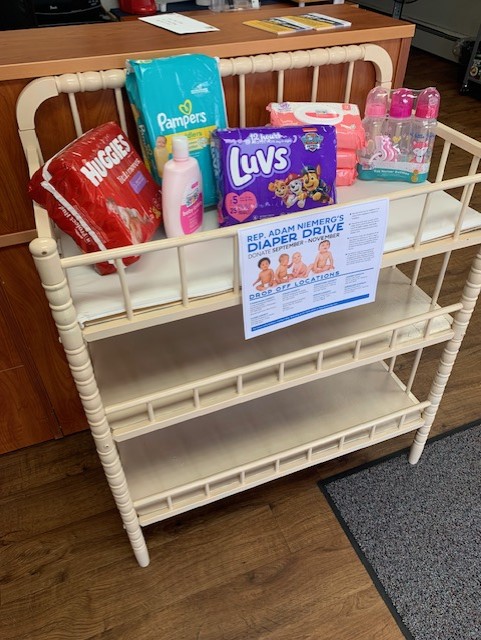 "Because the government cannot be expected to pay for everything, I am encouraging compassionate people and non-profit organizations to help fill this need around our community," added Rep. Niemerg. "If you are able to donate other items like baby clothes, baby food, or baby supplies of any kind, your generosity is very much appreciated."
Donations may be dropped off at the District Office at 107 E. Main Street in Teutopolis or delivered to one of the various Satellite Office locations during Satellite Office Hours around the district. Additionally, donations may be dropped off at any one of the participating pregnancy care centers located in and around the 102nd District. The center that receives donations will be able to keep them at that location for their use in helping families in their area. Those locations include the following:
Champaign County
Living Alternatives-Pregnancy Resource Center * 205 E. Wilbur Ave., Champaign * 217-398-6511 (donations may be dropped off at the back door after hours)
Clark County
Choices Pregnancy & Health * 407 NW 3rd St., Casey * 217-932-5900
Coles County
Choices Pregnancy & Health, 260 W. Locust Ave., Charleston * 217-345-5000
Choices Pregnancy & Health, 105 N. 10th St., Suite #3, Mattoon * 217-234-3312
Crawford County
Redeeming Love Ministries * 104 N. Garfield St., Oblong * 618-592-3046
Edgar County
Choices Pregnancy & Health * 210 N. High St., Paris * 217-463-7800
Jasper County
Family Life Center * 301 S. Jackson St., Newton * 618-783-5433
Vermilion County
Women's Care Clinic * 1509 N. Bowman Ave., Danville * 217-431-0987
Please remember to contact the district office if you have issues or concerns about state programs or public policies at 217-813-6036 or sign up for legislative updates at RepNiemerg.com.