SPRINGFIELD – A new hike and bike trail at Fox Ridge State Park is now officially open for public use – an important step in a long-term regional effort to connect the park to the city of Charleston in east-central Illinois.
Staff from the Illinois Department of Natural Resources, park users, and area residents on Tuesday officially opened the Embarras River Trail, a nearly one-mile-long trail running through the Embarras River Land and Water Reserve and connecting parking lot No. 6 on East County Road 380 North to the park.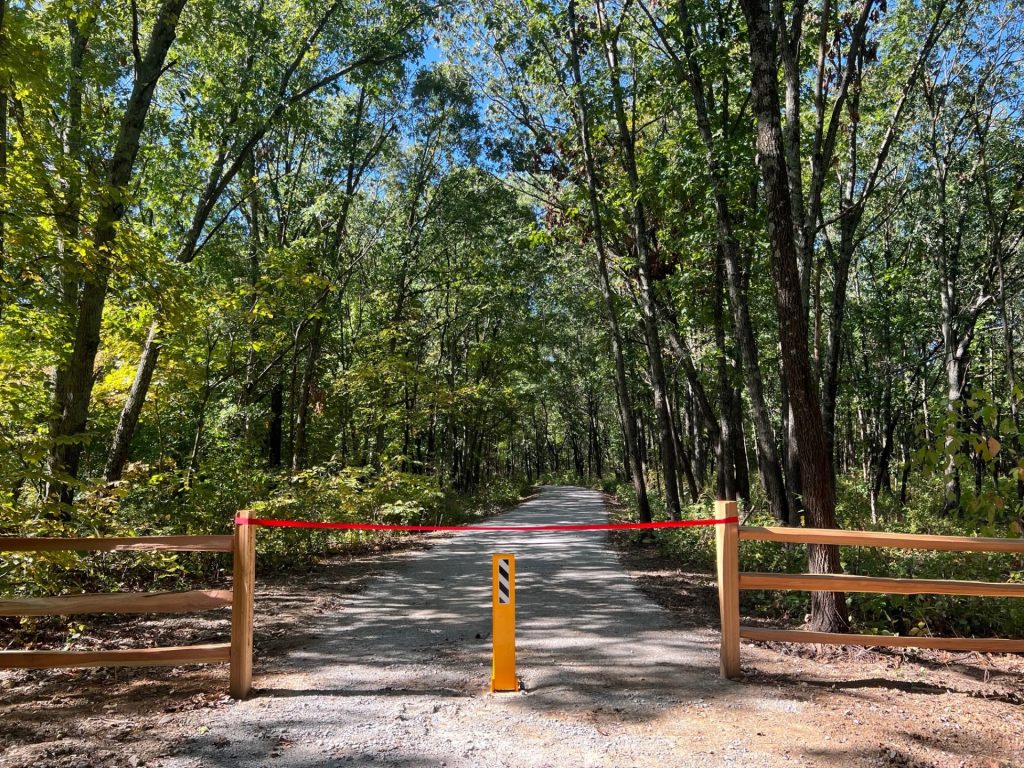 "This wonderful new hiking and biking trail among the natural beauty of Fox Ridge State Park is sure to be a draw for area families and visitors," said Natalie Phelps Finnie, director of the Illinois Department of Natural Resources, which operates Fox Ridge State Park. "IDNR is thrilled to provide this outdoor opportunity and looks forward to continued efforts to build a physical connection between the park and the Charleston community."
The $379,880 project was funded through the U.S. Department of Transportation Federal Highway Administration's Recreational Trail Program, which provides an 80% federal match to state funding. Work included resurfacing an existing trailhead in the hunter parking lot and 0.8 miles of the vacated 380 North Road, replacing culverts to correct existing drainage issues, and installing interpretive signage and traffic control measures within the Embarras River Nature Preserve.
"We are thrilled to see the progress at Fox Ridge State Park. Fox Ridge is an incredible asset to the City of Charleston, and their success is our success," Charleston Mayor Brandon Combs said.
Fox Ridge State Park is a 2,064-acre park just south of Charleston in Coles County. It's known for steep, thickly wooded ridges; broad, lush valleys; and miles of rugged scenic hiking trails. Set among rolling hills and forested bluffs of the Embarras (pronounced "Ambraw") River, visitors can enjoy hiking, bicycling, camping, canoeing, horseback riding, fishing, hunting, picnicking, and more at the park.
"I appreciate projects that will help in the economic development of our region, and this promotes tourism for our area," said State Rep. Adam Niemerg of Teutopolis, whose district includes Fox Ridge State Park. "With Eastern Illinois University and the Charleston community nearby, I can foresee an expanding opportunity to promote outdoor activities with this trail for hiking and biking and connecting to Fox Ridge State Park."
"This new bike/hike trail is a welcome addition to Fox Ridge State Park," said State Rep. Chris Miller of Hindsboro. "People all across the country are always on the lookout for new trails and this is certainly one that will be added to their list. The Embarras River bike/hike trail will not only improve our local economy, but it will also provide new opportunities for local residents to enjoy the outdoors."